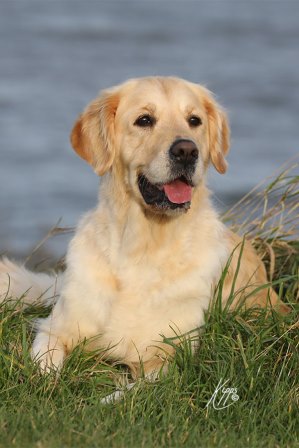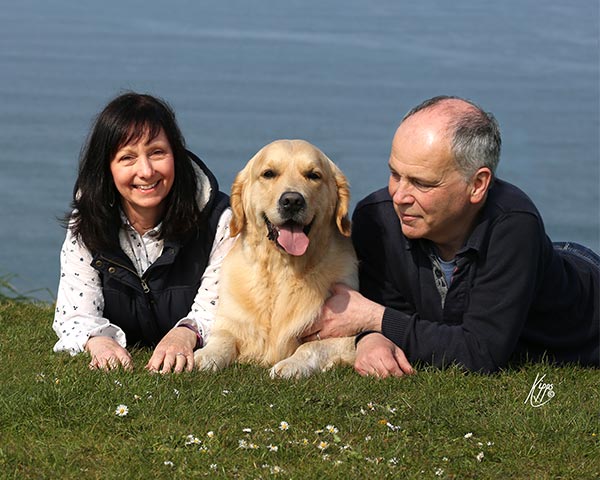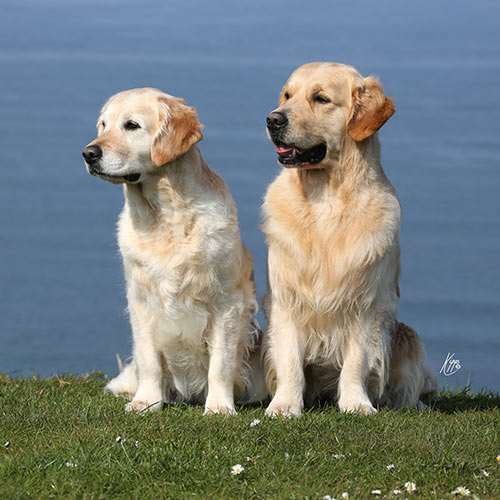 We are Scott & Tina (nee Thomas) Williamson and we live just outside Carnoustie in Angus with our 'Golden' family.
Scott has been involved in 'Goldens' for over 30 years, previously showing successfully under the affix Dawnryan. Scott has also served on the committee of Angus and Kincardineshire Canine Association.Scott judges the breed at Open Show level and has also judged Flatcoats and Labs.
Tina became smitten with 'Goldens' having been a puppy walker for 'Guide Dogs for the Blind'. Tina's first encounter with Goldens began when Ulay, a 6 week old Guide Dog puppy came along in 1998. It was love at first sight. Ulay was such a charmer and it was heartbreaking to part with her when she left to start her formal Guide Dog training at just over a year old. She was irreplaceable, but then the quest began to find a golden who would not be just a temporary family member! More than a decade later it would be safe to say 'mission accomplished'!
Tina has shown her 'goldens' under the affix Teandalloch in partnership with her Mum Barbara. Tina judges the breed at Open Show level.
Roxy (Sh Ch Ronjalee Roxy Lady ShCM) was our first jointly owned 'golden' and the first to be shown under our affix 'Sandti'. Later, Rio (Ronjalee Rock A Fella JW, ShCM) joined us and became best of friends with Roxy, his favourite aunt. Next to join us was Betty (Thornywait Atomic Betty For Sandti).
Special thanks must go to Barbara Thomas who is a source of great support in caring for the dogs when we are away at work and at shows. We could not manage without you.
Special thanks also to Jackie Leybourne for entrusting us with Roxy & Rio who have made their mark in the showring as well as at home with their ability to entertain! Thank you Jackie for all your support and guidance.
We endeavour to give our dogs an interesting and stimulating life and to that end they have been involved with obedience classes as well as gundog training classes. Our 'goldens' are first and foremost our family pets, all having their own very individual personalities and qualities whilst retaining the typical character of this lovely breed.
We hope you enjoy our website .
Scott & Tina